It's that wonderful time of year again! No, we're not being sarcastic… you won't find any bah-humbug here, no coal for sale, and most importantly no drab or generic gifts for sale. We've put so much thought and enthusiasm into what we're offering as (what we like to call) "giftables," and we couldn't be more excited to share them with you. Here's our gift guide- done Moxie-girl-style! We hope these details of our most coveted holiday treasures will delight you, inspire you, and remind you of a holiday season that's genuine. All of the lovely ladies on your list are sure to fall in love with Moxie treats this year. Don't miss our stylish stocking stuffer suggestions at the bottom!
 Karen's choice: The ultimate (non-)cliche.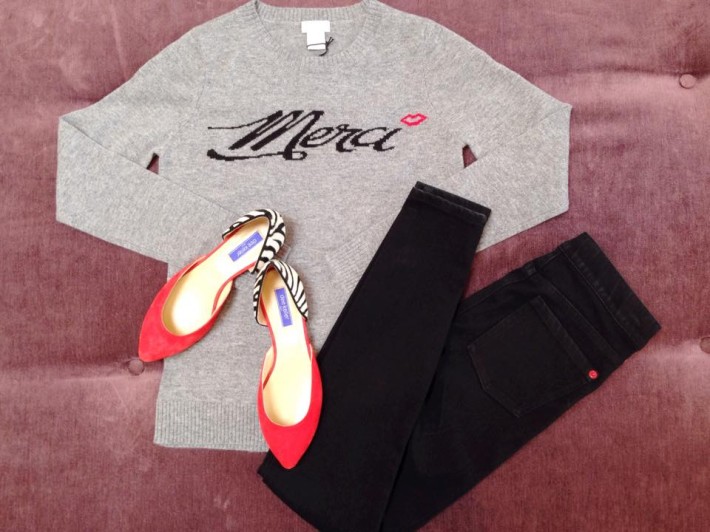 Giving a sweater as a holiday gift is a solid move- appreciated by all, sweaters embody the coziness we hope to feel during the frigid winter days ahead. The challenge is usually to find a sweater with enough personality to match its recipient. This Oats cashmere graphic sweater is equal parts adorable and sassy, perfect for the young woman on your list! The little pop of rouge lips above this Parisian graphic is irresistible! We love it styled with our black Spanx denim and wild Dee Keller flats. Your recipient is sure to say "Merci!"
 Kaylie's choice: A bold bag.
Kayls lit up with joy at the sight of our most recent (and very first!) Liebeskind Berlin handbag shipment. This printed "Beau" bag is something to keep forever. "My favorite gifts I've ever received have always been things I wouldn't have necessarily chosen myself," she says. "That's why I'd suggest this bag to guests in the store- modern women are very safe with their investments on essential pieces like handbags. But really, who needs another boring bag? The 'Beau' bag is interesting, well-organized inside, a usable size and is timeless, even though it's made in this fun print. I think women would appreciate the sentiment that someone picked out such a special piece for them." We couldn't agree more! Of course, handbags are quite a considerate gift, and we think this would best suit your best friend, sister, or someone else you know well.
 Catherine's choice: Cozy cuteness.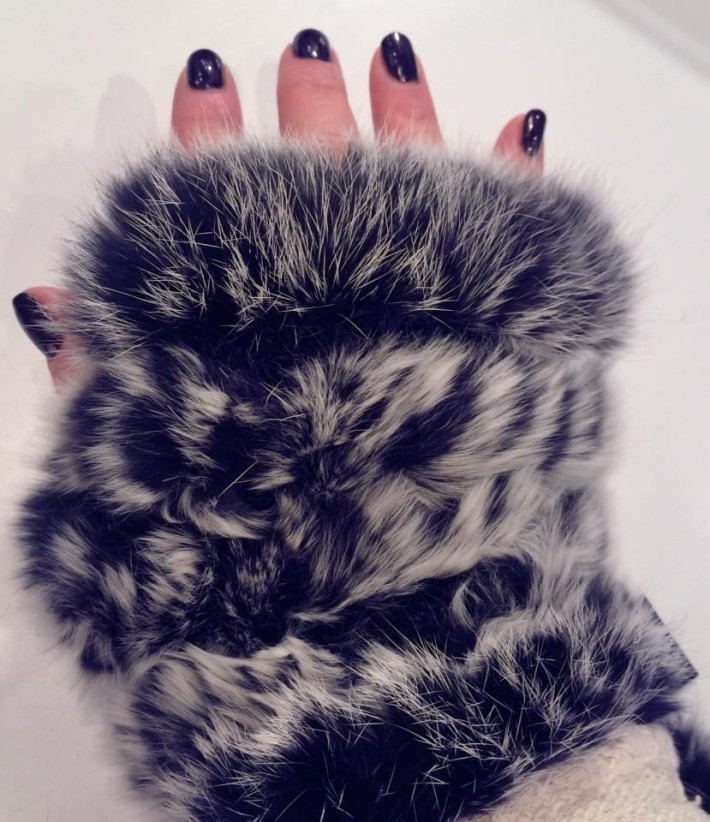 Cath knows women just can't resist cozy and cute when they're one in the same. It's no surprise our team's token cat lover has chosen the adorable finger-less "Mandy" rabbit mittens as her top pick for gifting. She says she loves that your fingers are free to move but you'll stay cozy and warm. "These mittens would be perfect for pretty much anyone- your friend, sister, daughter, babysitter, neice… I can't think of anyone who wouldn't love these!" AGREE. They're a rare find worth admiration! And they come in a variety of colors: black, navy, black with gray tips, black with white tips, and even fuchsia. What a happy-making gift!
Rachel's choice: Comfort galore.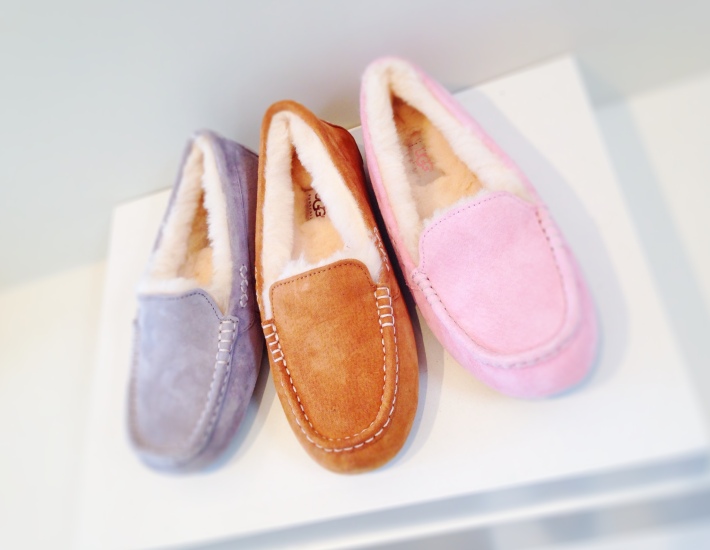 Rachel says, "Nothing is better in the winter than warming up wearing your favorite UGG slippers!" Who can disagree with that? We just restocked the "Ansley" style, which we love because it's not your typical chunky shearling boot. You can wear "Ansley" outside on short excursions, since it has a thick rubber sole that means business. It's the perfect shoe and slipper hybrid… now known at Moxie as the SHLIPPER! We've often wondered what makes our guests shy away from giving shoes as gifts, since we (frankly and obviously) can't think of anything better on planet Earth. We're thankful that this slipper is whole-sizes-only for a simple fit, easy to buy for someone else. Think of "Ansley" for your mother, aunt, daughter,  babysitter, or a family member's girlfriend… the list goes on and on.
 Janine's pick: Cashmere overload.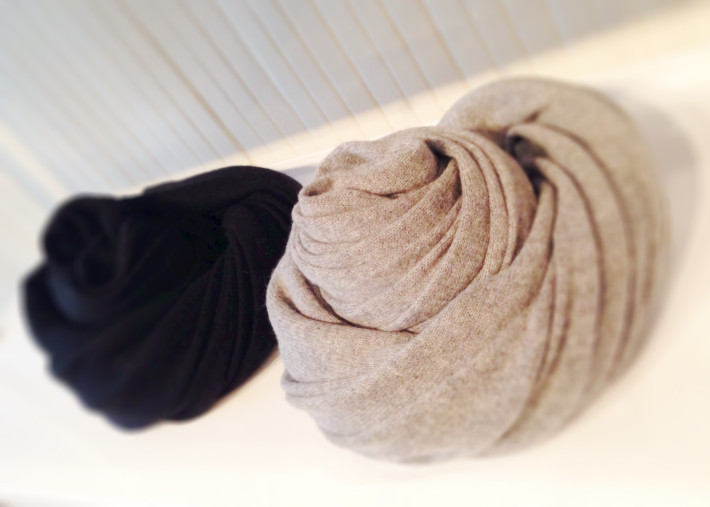 Comfortable. Cozy. Casual. Our "Adele" cashmere wrap is all of the above! Janine has the right idea when she says, "they're the perfect grown-up blanket. So cozy and chic." These oversize wraps can function as basic scarves or as shawls and come in black, gray, denim, or purple. We recommend them for the avid traveler on your shopping list- they're excellent for wrapping up with while traveling via plane or train. Our Oats cashmere label never disappoints! You'll find equally essential sweaters and cartigans in the Wellesley store this season.
 Corinne's pick: Monogrammed bling.
Corinne values versatility when it comes to gift shopping, and who can blame her! These Sonya Renee initial rings are once again perfect for so many ladies on your list: friends, cousins, daughters, nieces, teachers, babysitters. The best part? They're adjustable so you'll never need to worry about sizing- you can gently squeeze or widen the opening to fit all sizes. Gold plated and gently adorned with cubic zirconia jewels, we think they're a steal! And don't think everyone wears their first initial; children's and significant others' initials are also popular requests. Tell your friends to try layering them with other delicate rings for a really fashion forward style.
Jess's choice: Luxe winter texture.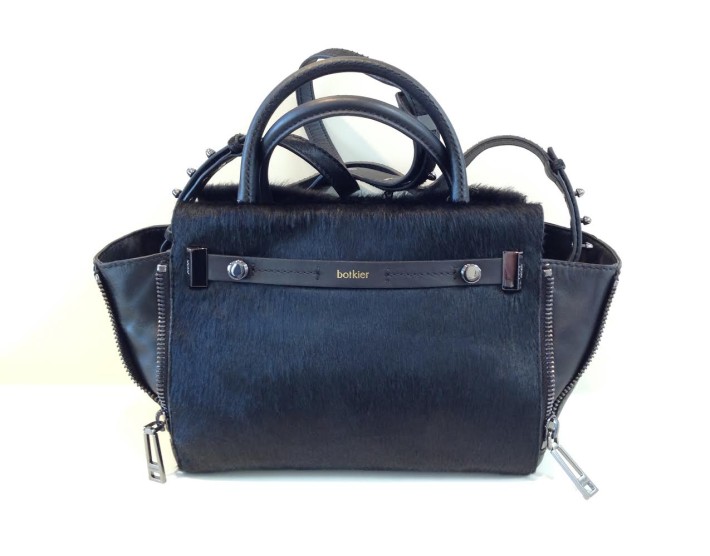 "I'd recommend this bag because it's ladylike and edgy at the same time," (a combination Moxie Girls dream of) says Jess. "The trapeze silhouette is modern and elegant," she adds. We love all the outfit options this bag offers. Try it with a printed dress and boots for your next girl's night out. Ever feel like you wear only a sea of black on cold winter days? All black outfits are the opposite of drab as long as you're mixing textures like leather/calf hair/silk. Jess's favorite outfit option for the Leroy satchel? Paired with leather leggings and a silk top. Dreamy! This bag is the perfect gift for none other than you, so feel free to forward this post your hubby!

 Emily's Choice: Canvas convenience.
As an expecting mom, Emily was thrilled when the Liebeskind "Peaches" waxed canvas bags arrived at Moxie. She says, "This tote has lots of space for organizing your items whether they're baby bottles or beauty essentials!" Emily knows this lovely Liebskind can perform a lot of duties: it can be your daily carryall, your school bag, your weekender, your travel carry-on, or your baby bag! The design is perfect for the modern woman, with mat gold hardware and dual-tone colorways. What's not to love? Try gifting this to the college student or expecting mother on your list this year.
 Samantha's choice: Where memories are made.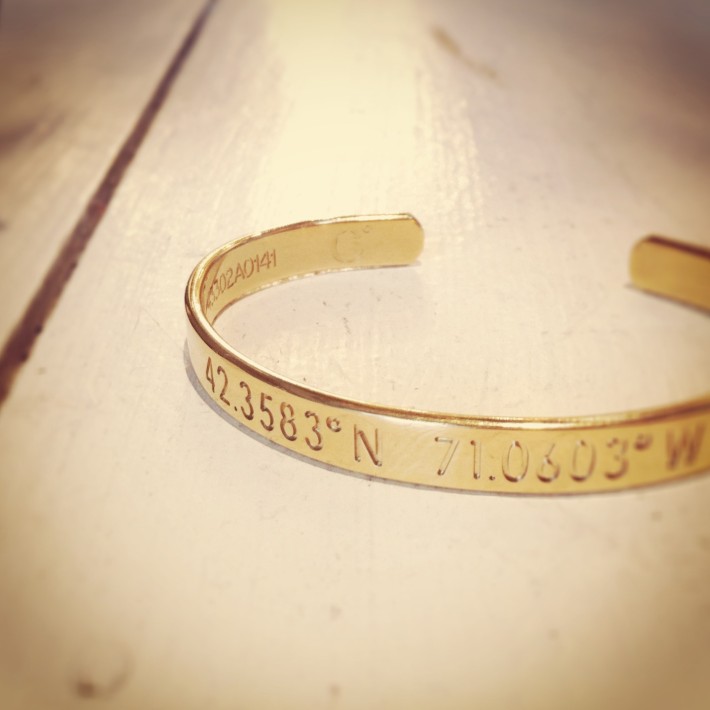 Samantha loves the personal nature of our jewelry by Coordinates Collection. "I love how these can signify a special place you might share with someone," she says. Each simple yet stunning piece of jewelry displays the longitude and latitude of a particular city. Our collection includes adjustable cuff bracelets for Boston, Nantucket or Paris available in yellow gold, rose gold, or sterling silver plate; and 18-inch necklaces for Boston in yellow gold plate. These are excellent gifts for friends or family members. Need ideas for the recipient? Think of where someone got engaged or married, graduated college, vacations each summer, or where they had a once in a lifetime vacation. Yes, these pieces are available to be special-ordered for cities other than what we carry in our stores, just call us for the details!
 Sienna's choice: No-worry weather wonder.
Having weather-ready boots is a no-brainer here in New England, but Sienna does not believe in trading fashion for function. "These Tory Burch boots have such a cute, preppy style while they keep your feet warm and dry. Who wouldn't want that?" Sienna asks. AGREE! We love the adorable quilted shearling detail. Rubber treads on the bottom and a front zipper make these an easy grab-n-go option on those less-than-perfect snowy days. They're perfect for the girl who's ready to upgrade her functional footwear. Available in whole sizes only, these boots are an easy fit, half sizes size up. Done and done! She'll love them!
Spectacular Stocking Stuffers!
Love what you see? We don't blame you! The holidays are going to be jolly indeed with Moxie here to help you check off your list. We'd be delighted to provide you with further information on any of the items described here. Just call our Boston store at 617-557-9991, our Wellesley store at 781-235-1833, or email [email protected] for help. We're offering FREE SHIPPING on holiday gifts through December 15th!