Our team is always stylin' in the summer! Our individual styles are as diverse and unique as seashells, which surely shines through in this round of Moxie Girl Faves.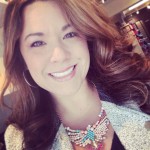 Karen instantly fell in love with the Tory Burch Ollie. "It has a burlesque, vintage feel that I love," says Karen. "And I'm always on the lookout for transitional shoes that you can wear open in warm weather or with black tights once the temperature cools down." Ollie will pair perfectly with a black maxi dress or skinny faux-leather pants. Simply irresistible!
Kaylie can't live without the Rebecca Minkoff Cameron pump in this fun Mexi-flower print. "I'll have this shoe my whole life," she says, "because it's a special style that is appropriate for all seasons." Imagine Cameron with a bright coral dress in summer (Kaylie's outfit for tonight!) or with black tights and a sparkly number for the holidays. "People will always ask about this shoe- it's so eye-catching." And the bonus? A full-length foamy insert in the sole puts your comfort-concerned mind at ease. *Now 40% off!*
Ariel is captivated by the Marcia Moran iridescent cats eye cuff bracelet. "The metal on this bracelet is so light, you can barely even feel it on your arm!" says Ariel. This cuff's undeniable beauty proves that "cats eye" creates "catch-eye," since according to Ariel, "this bracelet catches every eye it passes by!"
Molly is crazy for cozy with one of our new dyed cashmere & silk Chan Luu scarves. "It'll transcend seasons," says Molly. "Wear it with a simple T-shirt or cute jacket!" These scarves are great for traveling thanks to their large size- they can easily be used as a blanket on cold trains and planes. Since they're woven quite loosely, pulls are very easily corrected and their light, voluminous  feel make them an instant favorite.
Liz thinks Kate Spade Shelby is the perfect summer shoe. She explains that this striking T-strap sandal "adds a feminine flair to a summer sundress or white pants," and she adds appropriately, "what Boston girl doesn't love pearls!?" We can envision Shelby with any summer outfit, including weddings or special parties as an alternative or back up option for your high heels! *Now 40% off!*
Brittany can't help but feel captivated by another Kate Spade shoe, Pointer. She says, "the vibrant color, texture, and pointed toe on this sneaker are a great addition to any fashionista's closet." Since it's in the Ked's family, Pointer is also very comfortable and easy to wear throughout the year. It'll add some fun to your outfit! Brittany also points out that "it's a fun substitution for your basic sneaker, and a great way to show personality."
Completing our hat-trick for Kate Spade styles, Emily says she became "insta-obsessed" when the Kate Spade Imedla made its way to the Moxie shelves. "Talk about a perfect black pump with a twist!" she says. "I can see myself wearing this to a summer wedding or even out to dinner. This is a staple for any fashionista wardrobe!" Can't disagree there! We also love that Imelda references very high-fashion design at a moderate, contemporary price point.
Olivia chose the classic Rebecca Minkoff Mini MAC as her favorite item in the store right now. "The electric blue color adds to a simple outfit and is perfect for going out," says Olivia. Mini MAC belongs in every woman's wardrobe because of it's functionality and style. The perfect size to fit your essentials, this bag is hard to resist!
Catherine has heart-eyes for the Tory Burch Trudy low wedge. She says the patent leather and tuxedo bow make it classy and feminine. We can't agree more with Catherine when she says "Audrey Hepburn would definitely have these in her closet."
We can conclude this round of Moxie Girl Faves with the following statements: It's totally possible to score sweet style on sale right now, Kate Spade is certainly holding our attention with three Moxie Girls choosing a fave from their collection, and pre-fall looks altogether amazing! For questions or style advice, as always, feel comfortable calling or emailing us. We're happy to help you find the accessories that are missing in your life! Boston: 617-557-9991, Wellesley: 781-235-1833, or email: [email protected] Cheers!